Prestigious Publications

Peta Sanderson has earned a reputation for professional excellence and artistic talent, attracting a discriminating clientele who expect a high standard. She has been in the Faux Finishing and Mural Industry for over 25 years and is trusted by people of international acclaim. Following are some examples of magazine, book and newspaper articles that demonstrate the caliber and scale of projects on which Peta has worked. For more information or to schedule a free consultation, call or email Peta to discuss your project.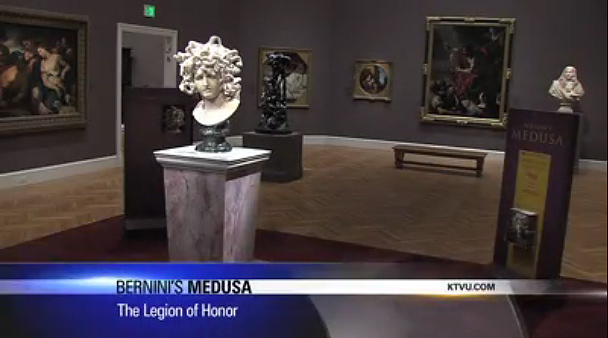 Faux pedestal for Medusa sculpture - Legion of Honor Museum, SF Bernini's Medusa - San Francisco Legion of Honor Museum Pedestal for Bernini's Medusa: Legion of Honor Museum For the first time in the US Bernini's 'Medusa' comes to SF. It was on view at the Legion of Honor late 2011- Feb. 19th, 2012, it is a remarkable Baroque masterpiece and one part of the rarely traveled "Dream of Rome" project. This remarkable marble sculpture is carved out of one block of marble chosen for its particular bronze-tinted color that creates a close rendition of human flesh. Peta Sanderson and co-artist Bac Hoang created the Pedestal on which the sculpture is displayed. The Venetian Rose main body was executed by Peta Sanderson and the top and foot, Blanco by Bac Hoang. Being contracted by the De Young to produce this finish was a great honor. It's exactly the kind of project most Faux Finishers dream of and to be part of it's creation was wonderful. Mr Bill White of The De Young worked with me as we developed a series of samples for the project. The Venetian Rose and Blanco were ultimately chosen. I layered texture and drift, sinking all under many coats of varnish. The Venetian Rose was the more complex of the two and the palette Peta finally used was a diverse and rich one. The Blanco, even though seemingly Black, grey and white, surprised both of us in it's range of hue. Click for KTVU TV station news article and video about the exhibition.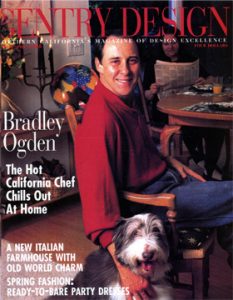 Gentry Design Magazine article
Oakland Cathedtral of Christ the Light New Cathedral Open for Worship "Hundreds of parishioners joined four cardinals and priests from throughout the state for the dedication ceremony at the Cathedral of Christ the Light in Oakland... the $190 million structure, which will be the principal church of the Oakland Diocese of the Roman Catholic Church... The most revolutionary thing about the Cathedral of Christ the Light in Oakland may be that it looks so subdued. Two soft curves of densely patterned glass rest on a concrete base, tilted toward each other so that at their crest they nearly meet. The interior doesn't suggest a religious structure so much as an abstract vase that just happens to be 12 stories tall. But inside, the story is different. From the warm layers of Douglas fir that drape the sanctuary like a tent, to the chapels notched into the concrete like snug caves, the cathedral stands as a house of worship attuned to the 21st century - one that seeks to offer a sense of refuge rather than an aura of majesty..." -- 2008 SF Chronicle Newspaper Article. Peta was among several talented Bay Area artists contracted with to provide finishing touches to the cathedral's interior. Peta created the ceiling finishes of the Meditation Chapel Sanctuaries on each side of the main gallery. She also painted the ceiling of the exterior entry hall of this amazing cathedral. The results are an excellent example of her color and texture matching skills. She performed her faux magic by matching the polished plaster walls beneath them in these meditation sanctuaries.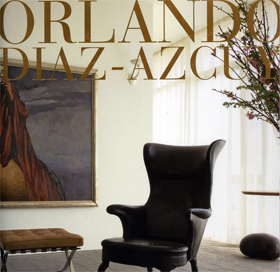 Orlando-Diaz Azcuy coffee table size designs book front cover Orlando Diaz-Azcuy A Design and Architecture Giant "San Francisco-based Orlando Diaz-Azcuy's mastery of the interior has made him one of America's most renowned designers. One of the West Coast's most well-respected interior architects, his elegantly composed rooms speak volumes of his spare, intelligent, and disciplined touch... Orlando Diaz-Azcuy has been an epic if under-recognized influence to interior architecture and design professionals and enthusiasts..." -- From the beautifully done book of photography by Diane Dorrins Sacks. See Peta's work featured in the "Sonoma County Country Retreat" (page 69), "A Dash of Color in Atherton" (page 110) and "In the California Wine Country" (page 139) articles.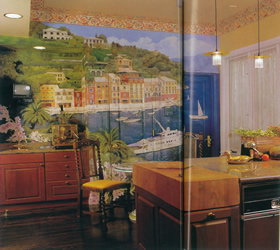 Architectural Digest Magazine article - Peta's Porto Fino mural. Architectural Digest Pacific Heights Redux The Spirit of San Francisco Reincarnated in a 1904 Italianate Mansion Architectural Digest - February 1993 issue (pages 132 and 133) Mural of Porto Fino A restoration of a refurbished San Francisco house, it was built before 1906 in a style some refer to as "Robber Baroni". The designers wanted to restore its older, more San Franciscan flavor. It was a large-scale project including an architect, interior designers and a host of craftsmen and artisans. When the owner bought the house, it came with an ashram and an ascetic religious community. Formerly a decorators' showcase, the sparse furniture and religious paintings of the residents were arranged against a hodgepodge of wall treatments and colors. Elaborately carved paneling in the first-floor rooms had been stained different shades, including a grim black. "I had the mural in the kitchen painted because it's the wall I look at when I'm cooking," says the owner. "Now in one direction I can see the San Francisco Bay, and in the other I can see Portofino."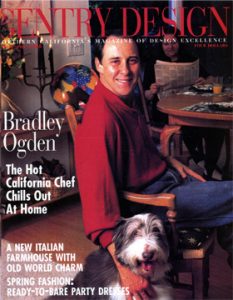 Gentry Design Magazine article Gentry Design Magazine An Umbrian Farmhouse in Northern California "A storybook-beautiful Umbrian farmhouse becomes a home away from Rome for a couple ties to the warm traditions of Italy. A slice of the central Italian countryside perched in the foothills of the santa cruz Mountains, the retreat that Frank and Marilyn Dorsa called La Rusticana conjures Old World romance. No wonder the couple claimed the site, just 15 minutes away from their home in Campbell, as their weekend hideaway. The frequent travelers to Italy wanted a place that could mimic the muted and mountainous Umbrian landscape. ... For the Italian-American Dorsas, taming the 42-acre paradise that now houses a delicately distressed Mediterranean villa and wine-producing vineyards, was clearly a labor of love..." -- Gentry Design - March April 1995 "Paradiso Found" (pages 88-95) The article contains further descriptions of the property with photos of the rooms in the house, featuring the stucco and faux work performed by Peta. Be sure to see the amazing powder room photo on page 92.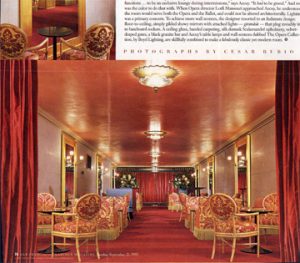 Gentry Design Magazine article Opera Give and take: Donor's Lounge, San Francisco Opera House 22 Carat, Gilded mirror frames. a Vermillion ceiling above and beautifully marbleized pedestals below, all working in harmony to create the perfect backdrop for donor conversation. Ceiling created by Peta Sanderson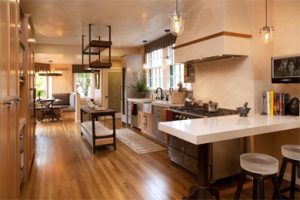 Architectural Digest Magazine article - Peta's Porto Fino mural. SF Designers Showcase 2010 Pacific Heights Redux Presidio Heights kitchen with colour impregnated, Venetian plaster walls and ceiling. An inlayed fern motif emphasizes the rustic beauty of the stove hood. A Hershon Hartley Design project. Feel free to
contact me
to view additional publication mentions and references!